Customise your forms to gather all the information YOU need for your business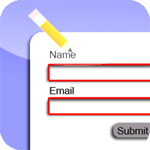 Forms are what make Online Booking Assistant so powerful. You create three forms, the First Contact Form, Reserve a Date form and the Feedback form, using any of the normal form field types, all from within your control panel.
These forms allow you to ask just the questions to which you require answers to be able to deal with a prospects enquiry quickly and efficiently. You can edit and tweak these forms as much and as often as you like… perfect for testing prospect to customer conversion rates.
You can make up your forms using the following form field types:
Text Box
Text Area
Drop Down List
Check Box
Radio Button
Date Picker
plus you can add a line of text for explanations anywhere you feel is necessary.
Let's take a more in-depth look at these form field types:
Text Box:
Use this type of field when you need an alphanumeric answer, for example the prospect's name.

Text Area:
This is used when you need a multiple line response, for example when asking the prospect what they are looking for.
Drop Down List:

Use this when you need the prospect to select from a list of answers. You can add as many options as you like. You could use this field type if you are asking them to choose one of your packages.
Check Box:
If you require the prospect to agree to something then use the check box, for example you could require them to tick to agree with your terms and conditions.
Radio Button:
Allow your prospect to select from one of your choices, this time with all of the options being displayed and the prospect having to click the button next to their choice – quite often used for "Yes" or "No" type questions.
Date Picker:
Allow the prospect to select a date quickly and easily: a calendar will appear so they just find the day, month and year they would like to enquire about and click on it. Perfect to allow the prospect to choose a date and for you to keep it in a format that you are most familiar with, so you don't get 1st of May and 5th of January confused. (01/05/xxxx)
Plus….
You can also specify whether each of the fields you enter are required fields, ie. they must be completed before the enquiry can be sent, and also if they come with an initial value pre-entered for them. And of course there is web 2.0 drag and drop function to move the fields you have created into the order of your preference.
All the forms are displayed and useable on your very own website… AND NOW on your Facebook Page as well…
… so visitors don't need to go to a different website to give you information. This is so important as directing them to a different website brings up trust issues, and a higher abandonment rate. All you do is simply add a line of code that we give you to your website pages for each form, the same as if you were adding Google Analytics, and you are done. It is a one time process. All the editing of the content of these forms is done from within your own OBA control panel.
The flexibility of the form creation process will make even the most complex form a breeze to set up and manage, without needing 10 years of website building knowledge and skill…. Even your grandma would find it easy…