How Online Booking Assistant (OBA) Makes Sure You Never Miss The Booking Because You Were Away From Your Office…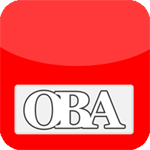 It is no secret that the web has quickly become the most productive source of new business we've ever had and is set to become even more productive in the near future.
When a prospective customer is on your website and needs some more information about you, perhaps they have a question or maybe they want to book you, OBA keeps you way ahead of the game.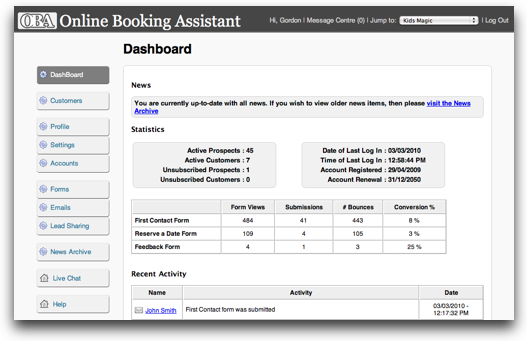 Your website visitor clicks a link and is asked to fill in their first name and email address along with any question(s) they have on a simple form. Of course this form is customisable but it is recommended that you only ask for minimal amount of information at this stage.
The visitor fills the form in and clicks 'send' – a few moments later an email arrives in your inbox – and with two clicks the answer is winging its way back. The answer is received almost before the question is asked, how cool and impressive is that? But that is not all…
Imagine you are away from your office; OBA sends a text message to your phone to let you know you have an enquiry. If you have access to email, then a personalised response can be returned with 2 clicks. If not, you simply log in to your own personal OBA control panel with your phone, laptop or any computer and again, two clicks later the answer is on its way.
It gets better, much better…
Every piece of information that is submitted through any form created on OBA is collected and stored online.

A full log of every email you send to your customers through OBA is stored, alongside all related information including when they filled in forms – all times and dates are automatically recorded – you do nothing.

The OBA system keeps track of the full history for each enquiry and automatically sets in place a series of follow-ups to make sure the prospect is not ignored. Exactly what you send them, when it is sent and how often it is sent is of course 100% up to you. However, you can set it up with a couple of clicks – it really is that simple.

At any point, you can add to your notes field, which is personal to you, and attached to the customers details. Notes can also be time and date stamped so you know what was sent/said and when.

Of course a customer can opt out of being contacted by email at any time (as required by email spam laws), and you can instantly see if a customer has allowed you to contact them or not. This is updated live so when a customer no longer wishes to receive communications from you, the system immediately stops further emails from being sent to them. This feature helps you manage your customers' communication expectations, automagically!!

In no time flat you'll get the hang of it, it really is very easy – and quickly realise that you can add offline customers and prospects to the system, meaning you give them a really good service which can't help but turn into more bookings for you.

The follow-up system is totally automated so you do absolutely nothing, but of course you are in total control all the time.
OBA is designed to increase website sales and help you deal with enquiries much more efficiently. It is a fully guaranteed product so if you don't agree that OBA has achieved this objective for you we will refund your money in full.
Here is the full version of our guarantee.
This is only a brief overview of the very powerful OBA system; we have given you a more in depth description of each of the features below. In addition why not watch the video and OBA in action, you can't help but be impressed.